In Bosnia 1993-96
Where, When UNHCR had one of the main wharehouses for humanitarian aid in Metkovic in south Croatia. I worked as a truck driver and convoy leader for the danish team from 1993- 1996.
<![if !vml]>
<![endif]>
The picture is from warehouse Opuzenka. There were 30 Volvo F12 trucks divided in three convoys in our team.
Except DRC, UNHCR had also a UK and a Norwegian convoy team, based in Metkovic.
<![if !vml]>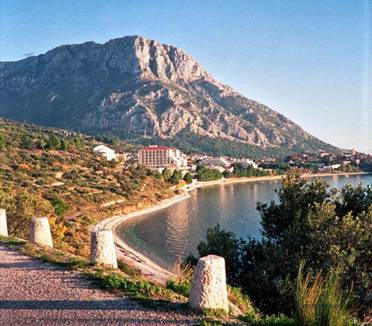 <![endif]>
We had stayed at Hotel Labineca in beautiful Gradac, between Split and Dubrovnik and 35 km from Metkovic.
Why What made me stay, I have questioned myself afterwards. But the very demanding and special condition made it special, also the "pioneer spirit" of the task and even the difficult driving conditions triggered me.
At first the conditions was very hostile with the serbs, croatians and muslims all fighting each other.
At first the three month contract was maximum of what I wanted to "risc", in those days we cynically calculated a 6 % risc of not returning home. (Six drivers/interpreters dead in the danish teams the frst year.) However the situation went a little better with the seize-fire between HVO (croatia) and BiH (muslims) in spring 94'.
Driving The normal roads in Bosnia was narrow and winding, however very often we couldn't use them due to situation and blown bridges. We had to use the so called Mackadams (read goat-paths). In mountaious Bosnia they were demanding, yet scenic.
A normal trip to Zenica (200km), Sarajevo (170km) or Tuzla (380km) was 3-5 days trip.
The road conditions were very bad, yet we had to think of our own safety and often drive at highest speed without caring the trucks. Normally we had numerous flat tires, once we had 8 flat tires on a trip so we became experts in changeing tires; the record was 4 minutes.
Especially in the winter it was hard work with flat tires and snowchains. To put the heavy norwegian double spiked snowchains (40kg) on-off and 4 times a day on 3-5 wheels.
1.000.000 DM per truck! We mostly carried weat flour which was the main cargo for the surrounded and starving people in central Bosnia.
We carried 20 tons on the 8x4 and 16 t on the 6x4 trucks and with the price of 50 DM/kg for wheatflour in Bosnia on the black market! the cargo was the most valued cargo I ever driven with. (1.000.000 DM)
One time we were attacked in Bon-bon valley in spring 94 to steal the cargo. The same night we stayed overnight at the UK camp in Vitez, and when we watched BBC 6 o´clock news, we where the main news. ...
In 1993-94, we could often watch BBC or CNN to see if we were going to work the next day or not...
Click below for all the pictures: