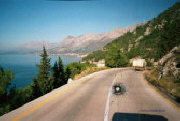 At my first convoy! MAN with a bullit straight in eye-sight.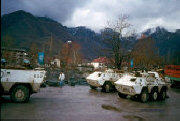 Spanish escort APC's in Jablanica 1993.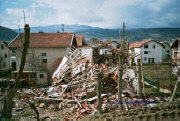 House blown w. oil drum filled with various explosives, mines etc. It woke us up 5 km away, stayed overnight in Gornji Vakuf!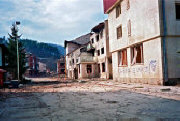 Gornji Vakuf and snipers nest at the hill.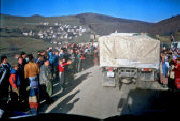 Bon.bon valley disaster 1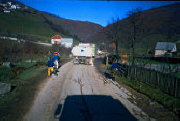 Bon bon valley disaster 2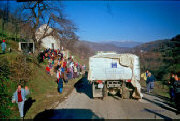 Bon bon valley disaster 3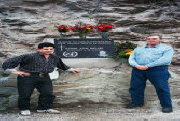 Nikola and Branco when raising Bjarnes N.'s stone, N Bon-bon valley.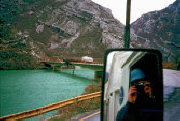 Broken Neretva bridge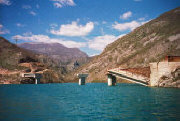 Broken Neretva bridge 2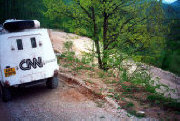 CNN's cars had good armour.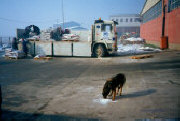 Wheat flour = good food for hungry dogs!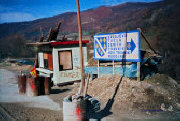 Gornji Vakuf checkpoint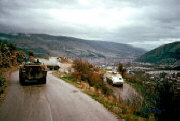 Above W Mostar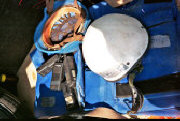 The standard equipment, helmet, vest and radio.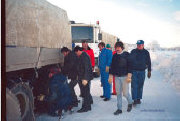 Many flat tyres was changed.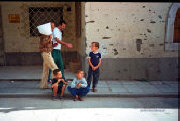 Kids in Konjic?
Kim A and Palle N getting to know some HVO soldiers, when our truck blocked the road.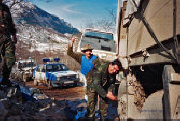 Palle and HVO in cooperation, on the Dresnica macadam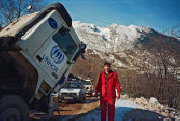 Miro Arnaut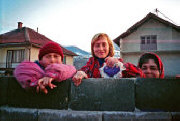 In DK1 we supported one children each in Zenica, a good way to avoid begging, here my girl Indira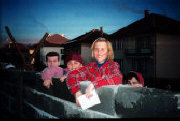 All the other children called to get Indira when we came to Zenica.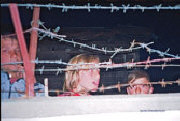 A fence, but who is behind it?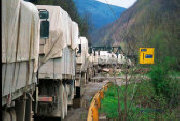 Zenica flyover.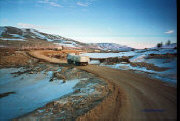 Triangle; a goatpath between Tomislavgrad and Prozor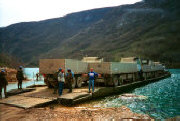 8 trucks and ferry was full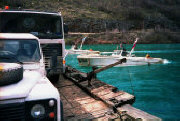 Slovakian pontoon ferry.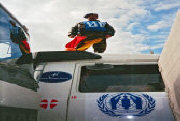 The 1st officer" on the roof.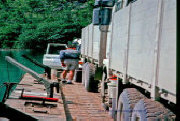 Slovakian Neretva ferry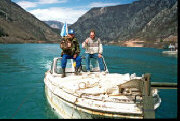 Great guys from Slovakia, helped us from 3 hours suffering on macadam , thumbs up!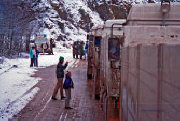 Nightmare checkpoint; pakbat at S Tuzla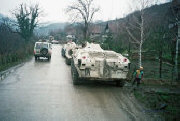 Nightmare escort; pakbat in russian APC's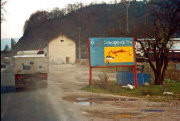 First time it was unreal to se the sign of 84 olympics; and less than 10 years ago Stenmark was here.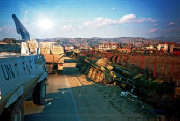 The real snipers alley; Sarajevo.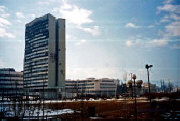 Sarajevo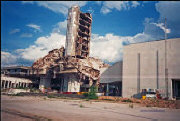 Sarajevo landmark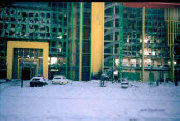 Former Sarajevo university of architecure!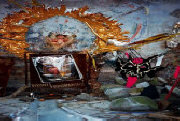 Old library, Sarajevo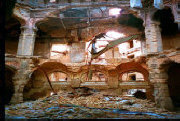 Inside Sarajevo old library, 1996.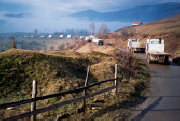 Two convoys in morning fog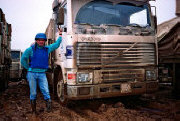 Muddy camp Vitez.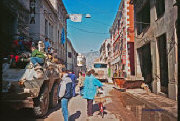 Offloading in east Mostar, using the houses for protection against snipers and morters from HVO.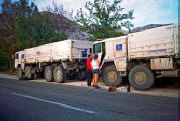 8x8 MAN, aircooled engine, pretty bad comfort.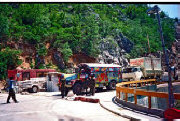 When children shouted "Tutti frutti convoy" we knew who were coming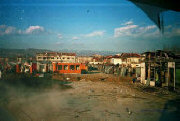 Around Sierra One, Sarajevo.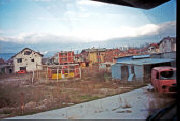 Around Sierra One, Sarajevo.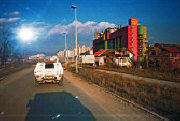 Sarajevo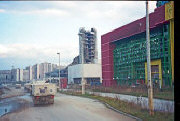 Sarajevo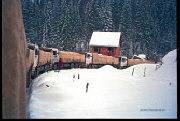 Between Varez and Tuzla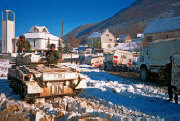 UK soldiers, between Tomislavgrad and Prozor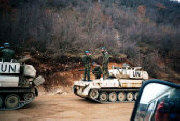 UK; Scorpions/Scimitars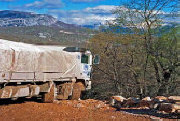 Driving on the edge at famous scottish bend.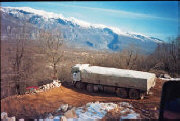 Scottish bend at Dresnica macadam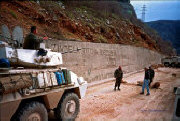 Sjiveli ( = cheers) Titova Jugoslavia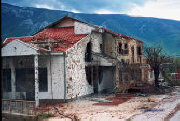 10 km N Mostar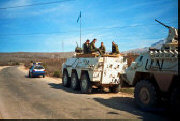 Spanish APC's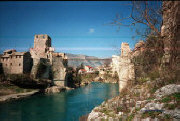 Stari Most, Mostar old bridge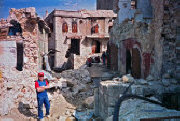 Tommy at Stari most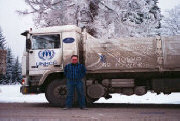 Volvo Flour Power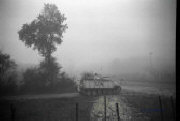 UK warrior, probably Vitez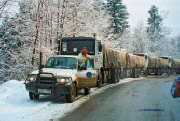 One of the last convoys to Tuzla '96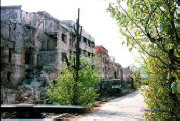 west Mostar 1996.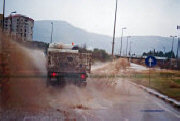 Always keep speed up for security...and sometimes fun! East Mostar.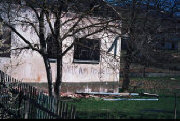 It says it all; "welcam to hell"